Every exhibit at the Children's Museum & Theatre of Maine is designed to let kids lead the way.
These interactive spaces are grounded in the science of play and the latest research on how children learn. Each exhibit is an opportunity for visitors of all ages to learn about their world through dramatic role play, hands-on exploration, navigating immersive environments, and taking safe risks.
The building features over 7,000 square feet of exhibits spanning four floors. These spaces reflect Maine's unique character and encourage exploration across a broad range of subjects, from STEM and the arts to the cultures and traditions that form the fabric of our community.
Looking for heros to save the day! Our new superhero themed exhibit is a fun, dramatic, energetic space where children can try on another identity, find their own strengths, and tell a powerful story - or just dance to the music!
(located in our Theatre)
Our Theatre space has evolved... into our Action! Headquarters! This is a superhero themed exhibit that was inspired by children who take agency to change the injustice they see around them. Here children can try on another identity, find their own strengths, and tell a powerful story – or just dance to the music! Heros can choose a superpower from the "Choose Your Power" wall, pick a cape, and grab some "powerful items" to aid them on their quest to save Portland. They can choose a threat by picking a backdrop, or make up their own! They can act out the story on stage and with puppets in the puppet theatre, and help tell the story with sounds (foley and electronic) in the Backup Lair. Alternatively, visitors can relax on the park benches and watch the drama unfold.

The Theatre is also where we rehearse and stage our acclaimed main stage productions and the location for many of our theatre workshops and special events and guest performances.
Coco's is a diner replica where kids prepare pretend sodas, shakes and assorted foods.
Children love experimenting with food combinations and exploring their creativity in the kitchen, and grown ups can browse real recipes from our cooking programs in the menu. The service is always great at Coco's!
Coco's Diner is sponsored by:
Welcome to the indoor playground! Our Town's brand new neighbor invites you to climb, slide, crawl and explore any way you want.
There's adventure and open-ended possibilities for all ages in this limitless playground, featuring structures that include slides, towers and ramps. You can even be an engineer and build your own masterpieces with our big blue Imagination Playground™ blocks. Learn all about planning, designing and teamwork as you make a fort, a boat, a house… anything goes! Build, climb and learn in the early childhood area or the big playground. In the Playscape, the only limit is your imagination!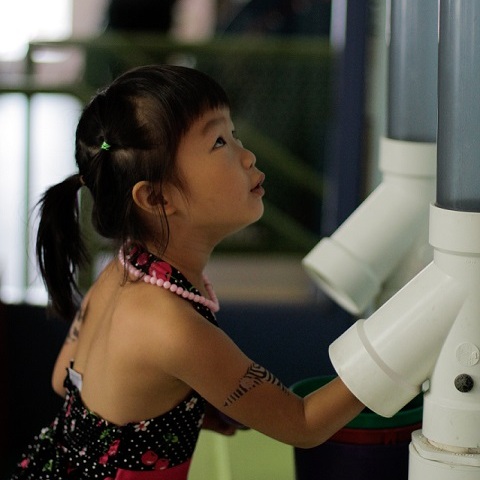 Enjoy the delight of hands-on physics learning for all ages. We think you will have a ball!
This exhibit offers exciting opportunities to explore the science of motion. Children construct ramps that make balls speed up, slow down, and leap from track to track; experiment with momentum, friction and energy on roller coaster ramps and explore the movement of accelerating balls. Throughout the exhibit, children make hypotheses, test their assumptions, learn about physics, and have a ball!
Immerse yourself in a fully-functioning town in kid scale. Our Town is a place where children can play different roles and learn about the interconnectivity of the world we live in.
Be Well Center
Examine our family of teddy bears and log their heart rates, blood pressure and other vital statistics while learning about how to live a healthy lifestyle. Drive the ambearlance, care for your patients with real and play medical tools, and more!
Toddler Park
Our Toddler Park is a soft play area reserved for kids under three years old. It's located right in the heart of the Museum & Theatre's main floor, offering guests what is arguably the best view in the house. Grown-ups can take a seat on one of our padded benches and watch the kids explore and interact. Our Toddler Park is a safe and secure environment.
Farmers Market
Our new Farmers' Market teaches math skills while celebrating the uniqueness of Maine's local food movement. It features a fish market, produce stand, flower cart, and stone oven bakery. Activities will help children develop early math, spatial relation, and logic skills through imaginative play. Role play with locally-inspired activities opens the door to learning about where our food comes from, the importance of local commerce, and learning through play.
Fire Truck
Our Town fire emergency! Stop by our 25-foot fire truck and become fire chief for a day. Try on some gear, climb into the driver's seat and race to the scene - don't forget to turn on our authentic fire engine lights! Sliding down our brass fire station pole is a big hit at this exhibit. This is also great place to reinforce the importance of fire safety. Key safety concepts include knowing two ways out of your house; stop, drop and roll; and going low in smoke.
Car Repair Shop
Race car kids will love our auto repair garage! The wrenches and screw drivers are tethered to the engine block so they'll be sure to find the right tool for the job. While someone's tightening the bolts, someone else can be hard at work pumping the gas. Be sure to pay the attendant.
Lobster Boat
Welcome to Our Town's port! A children's museum in Maine without a lobster boat would be unforgivable. We deliver big time with our own replica lobster boat. Climb aboard, haul in the traps and navigate your way back to Portland Harbor. This is a great spot to talk with kids about Maine's working waterfronts and the state's fishing heritage.
Oakie Acres
Got your overalls? In the farm you can learn about the dairy industry while role playing as a farmer. The farmer in every child (and parent!) comes to life as they milk our replica, life-size cow, ride our tractor and pump water from our well. If there was ever the perfect place to sing "Old McDonald" with your child, this is it!
Oakie Acres is sponsored by:
Mail's here! The market just got a post card from the farm saying that the harvest is coming soon. Dress up as Our Town's mail carrier and deliver post cards to each Our Town building. The post office connects all the diverse destinations in Our Town.
This exhibit is a space for families to come together through art and become part of the exhibit—and community—itself.
Tie ribbons to a community sculpture and explore the ideas of what art really is and what it means to the community. Add your mark to the "never ending" drawing wall, create poems with a 3D mad-lib style puzzle, build mosaics, and more. Throughout the year, the space will be physically transformed by visitor contributions and will feature many ways for families to play and learn together. The goal of Creating Communities is to facilitate meaningful conversations between adults and children about diversity.
Art on display in the exhibit features a selection of original illustrations by artist Anne Sibley O'Brien, created for the book Talking Walls by Margy Burns Knight. Talking Walls introduces different cultures to young readers by exploring the stories of walls and artwork around the world. Both O'Brien and Knight served as consultants to this project, which has been curated to focus on specific images demonstrating the power of art in cultural contexts.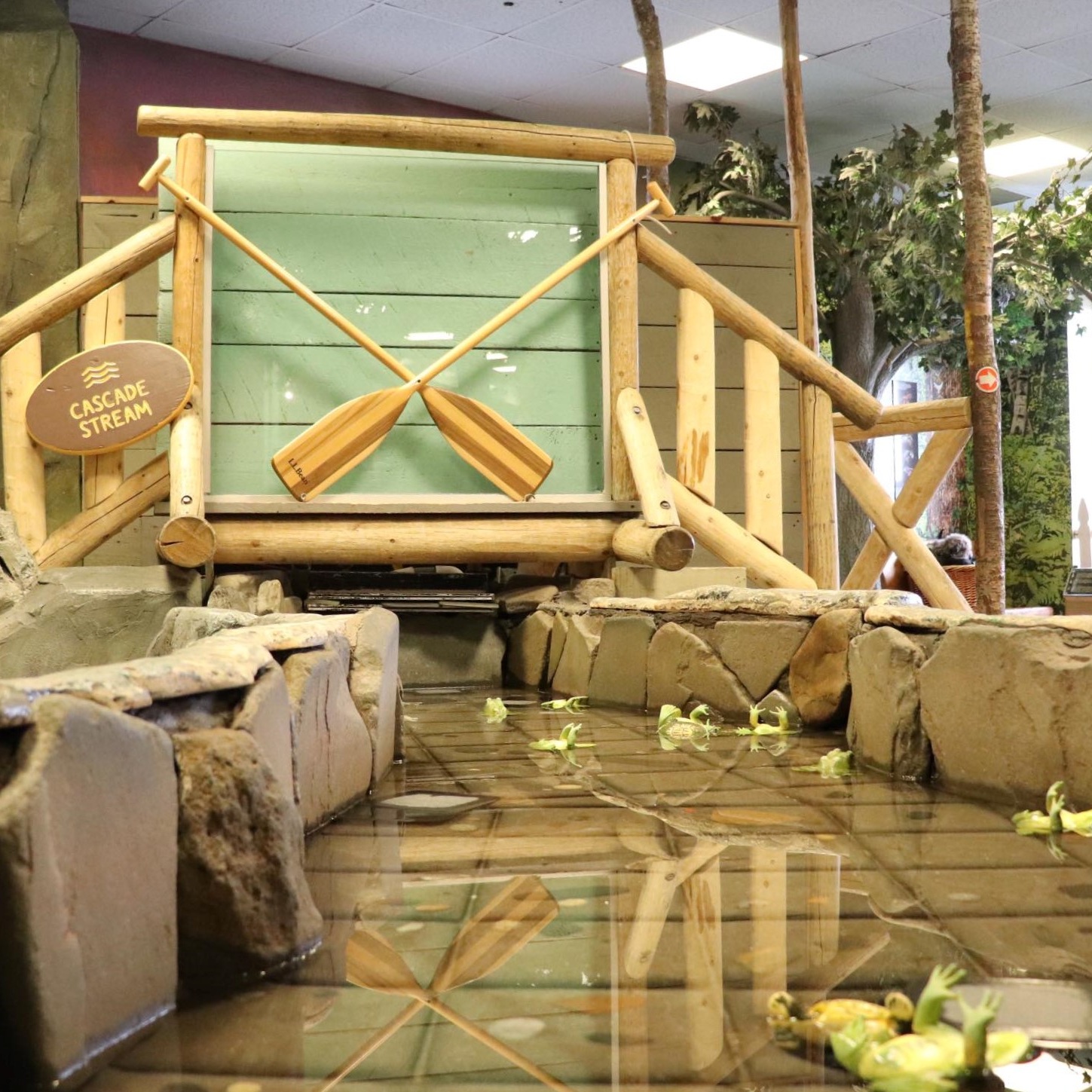 This exhibit is full of "outdoor" adventures!
This exhibit is full of "outdoor" adventures! Try out our kid-sized rock wall, float a boat all the way down Cascade Stream, and pack one of our back packs with the day's provisions and set up camp. Explore basic survival tips with kids while using your imagination in the woods! Plus, be sure to check out our year-round observation beehive! Learn the bee dance, look for the queen and get an up-close view of worker bees buzzing into the hive with pollen.
The Discovery Woods exhibit is sponsored by:
Become a ranger and identify plants and animals native to Maine!
Then you can use the PuppetTree to put on an animal puppet show for our turtles Nigel, Eloise, Dill and Bizzy Bob - just be careful not to tap on the glass! If you want more fun with science, attend a program led by one of our Youth Rangers. These teens are experts on owls, reptiles, rocks, trees, and many other features of our natural world.
Raising Readers Book Nook
Families can explore and read together in this cozy, quiet space tucked away on the Explore Floor.
The Book Nook is filled with books in English, Braille, Spanish, Russian, Vietnamese, Cambodian, Farsi and Somali. There's even an audiobook radio, perfect for two auditory learners to hear a Raising Readers book at the same time!
Raising Readers Book Nook is sponsored by: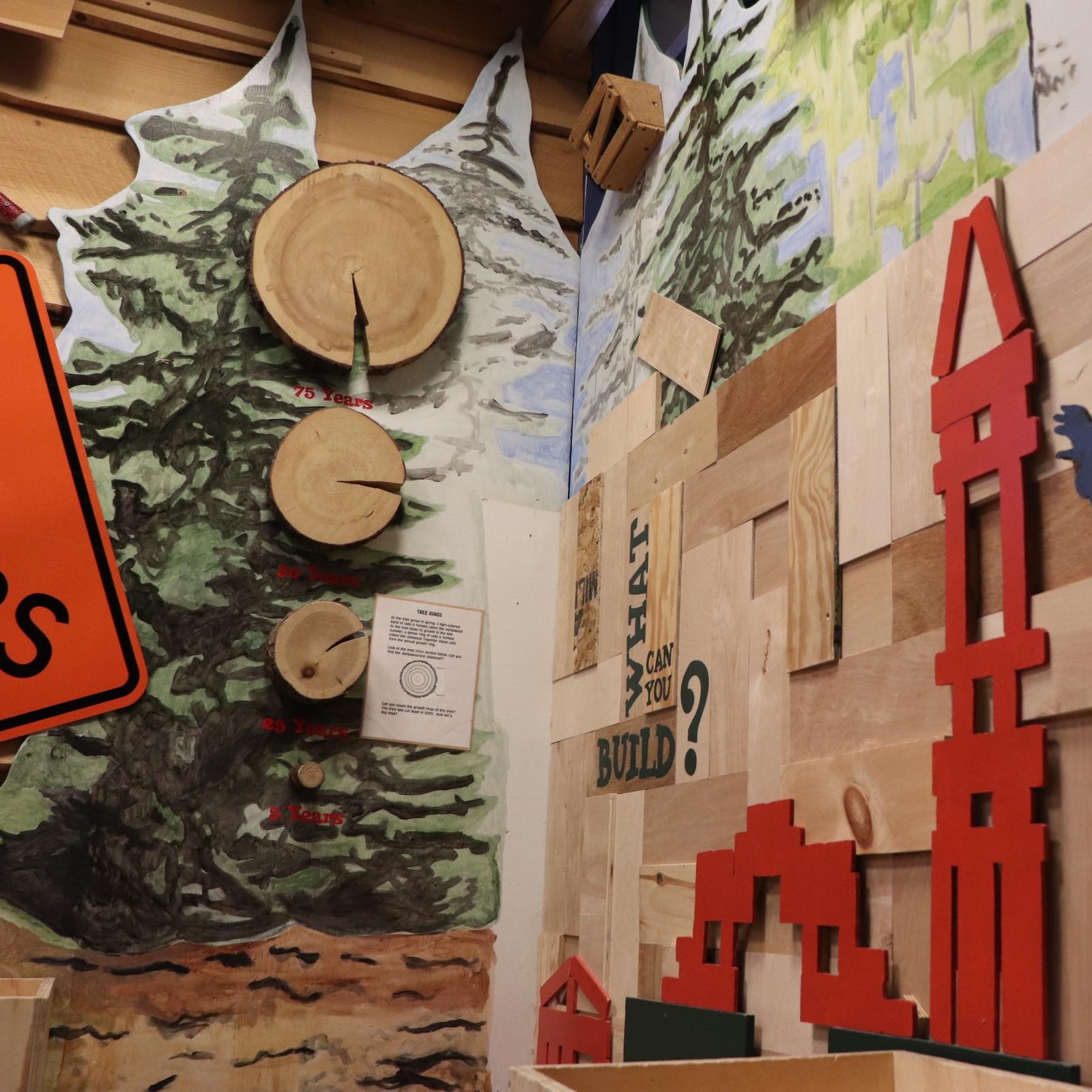 Tree to Timber shows kids the process of sustainable forestry.
At the sawmill you can crank a conveyor belt that draws in rough pieces of wood and returns finished pieces of pine. In the Treehouse you can use the finished pieces of pine to build your own log home.
Tree to Timber is sponsored by: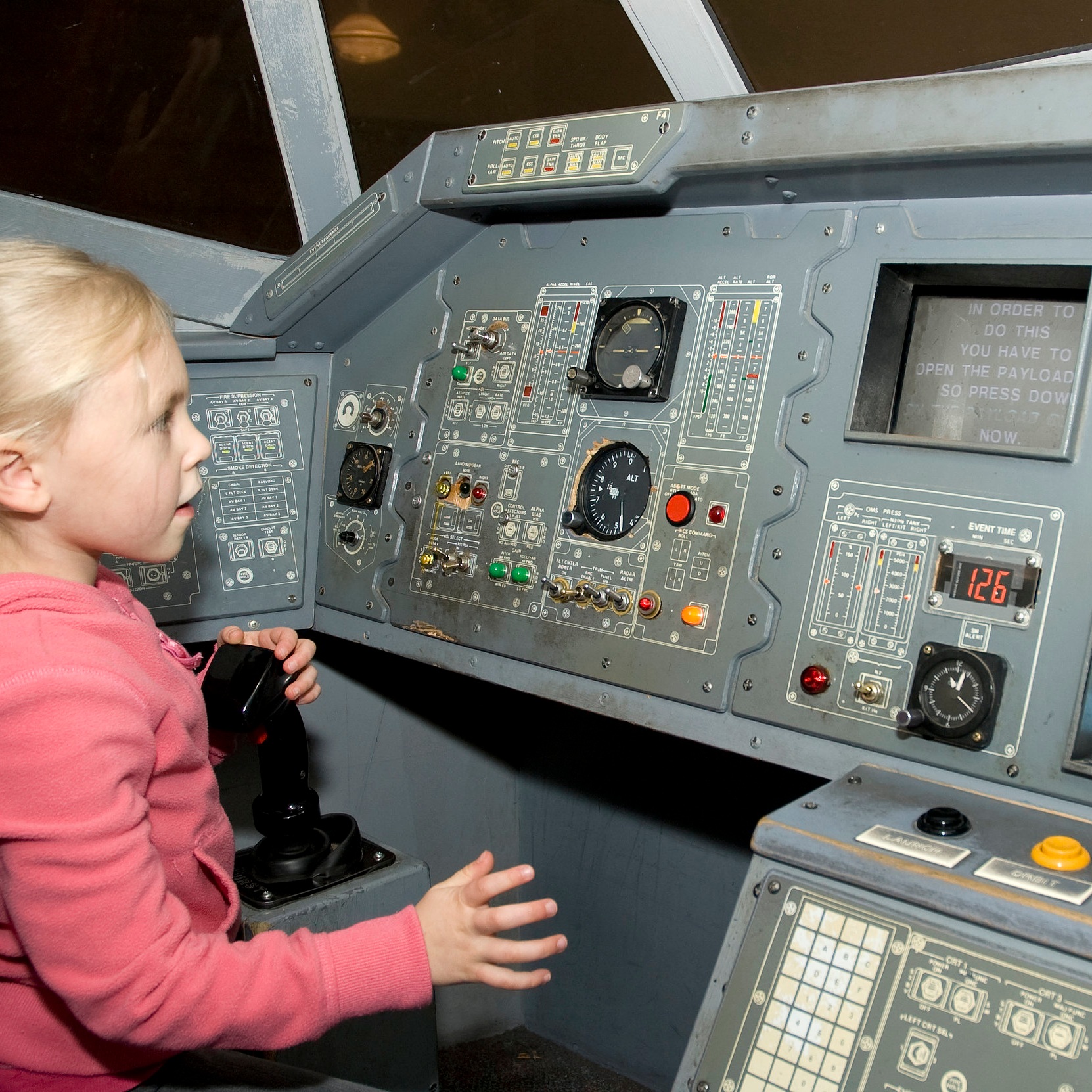 It's the only kid-powered space shuttle in Portland. Our space shuttle replica comes complete with astronaut uniforms and a life-size cock pit equipped with all the switches. Kids choose the flight plan - blast-off, orbit or re-entry. This is a great place to talk with kids about protecting our planet and the universe. Our mini-planetarium is also located inside the shuttle.
Enter the world of starlight in the Museum & Theatre's mini-planetarium! Frequent star shows enable visitors to learn how to spot a variety of stars, while exploring Greek, Chinese, or Native American mythology. Learn about the many variations of the "Big Dipper" and other popular constellations. Investigate the brightest and hottest stars. Travel through the night sky and discover the rich connections between star lore and culture.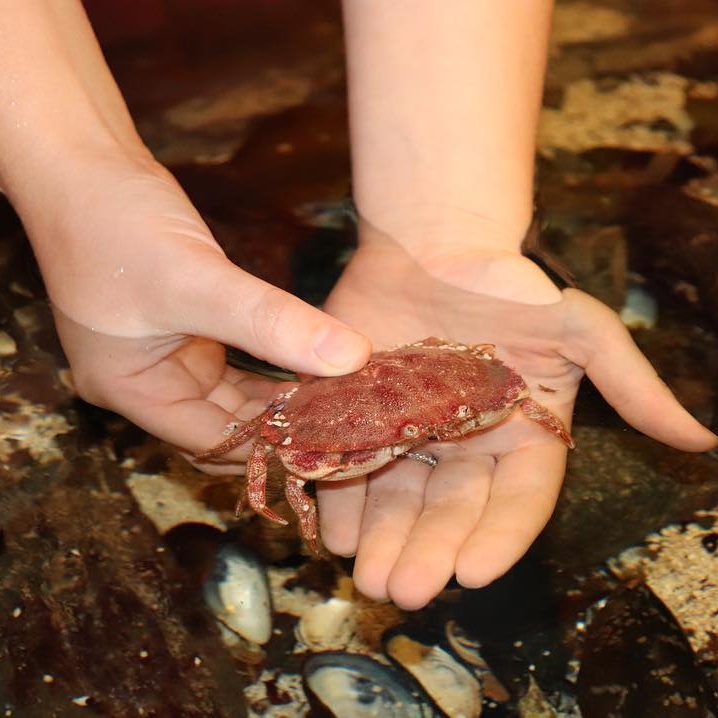 The intertidal zone of the ocean comes alive at the Tide Pool Tank!
On any given day, a myriad of inhabitants collected from Casco Bay is visible to onlookers. Sea stars, anxious for a tasty meal, are often spotted in deadly embraces with blue mussels. A sea cucumber lingers with outstretched tentacles positioned for catching detritus. Resident hermit crabs busy themselves with frequent investigations of vacant snail shell homes. Sea urchins use their suction cups to camouflage amidst blades of seaweed. Once or twice per day, the cover of this enchanted tank habitat is lifted so visitors can feel the varied textures of these marine creatures and learn about their amazing adaptations. Call ahead to find out today's Tide Pool Touch Tank times!
Ever wonder what it's like to be up in the clouds? Cloud City is an immersive, sensory rich environment designed to evoke a visitor's sense of wonder and exploration.
The exhibit is a dreamy landscape inspired by a view of clouds as if from an airplane. The multi-sensory exhibit is designed around current science on the various ways in which we process our world. Visitors navigate through a tactile world and are invited to play, invent games, and discover. Drift away in the dreamy atmosphere while exploring with friends and family.
Down to the Sea: An Outdoor Adventure
Based on characters created by beloved Maine author, Chris Van Dusen, our outdoor exhibit is an interactive adventure for children of all ages.
Hop in Mr. Magee's boat, climb on a shipwreck, and splash with water-spouting whales – all right here in our backyard! With literacy, gross motor play, open-ended water exploration, and sand play, the backyard at the Children's Museum & Theatre of Maine has transformed into the world of Mr. Magee and his little dog Dee.
Down to the Sea: An Outdoor Adventure is sponsored by:
Our Organization is Growing…
At our future home on Thompson's Point, The Children's Museum & Theatre of Maine will more than double our visitor capacity with new nature and aquatics, STEM, and cultural exhibits for all ages. Learn More